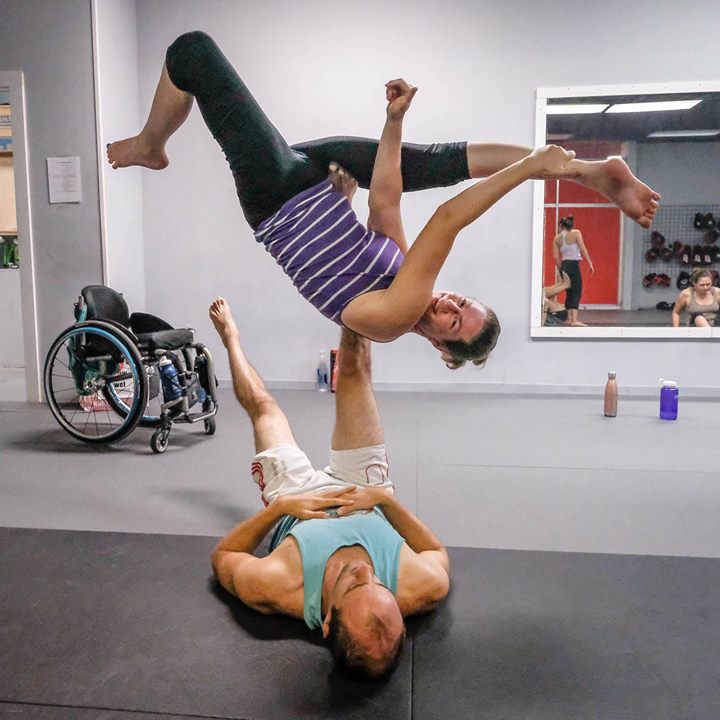 Adaptability is an important element of a successful acroyoga practice. Every time you do acro you have to make adjustments and adapt to your partner, the environment and even how you feel that day. Sometimes adapting is done unconsciously, other times it requires more planning and communication to figure out how to adapt to your partner's skill, shape or ability or to the lighting, flooring or other unique aspects of your environment. The skill and experience of some Austin Acro community members have in adapting acro is why, when I rolled on to the acroyoga scene as a wheelchair user and asked how I could play, I received the enthusiastic response of "We have no idea but let's figure it out!"  
We started out by adapting the very basic element of getting up and down to/from a flying position. From there we figured out therapeutics and some simple flows. Eventually we began exploring washing machines, counter balances, and then played around with some standing acro. I started testing out my ability as a base (which I really enjoy) and more recently, we have started experimenting with pops. Without any resources to help us figure out how to adapt acro for a wheelchair user, we've discovered enough that I've developed a regular acro practice with a solid, and ever growing, repertoire of skills. Some things have required more adapting than others but we've run into very few things that we can't find a way to adapt. It's been a group effort but the results have been incredibly rewarding.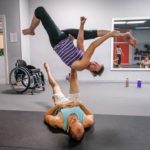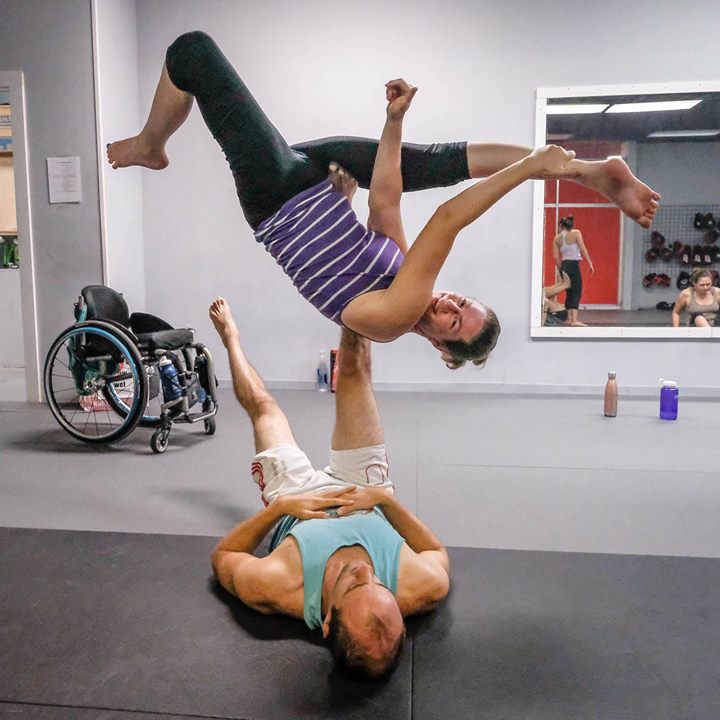 One of the most challenging parts of acro for me has been getting new people to play with me. I completely understand why basing/flying with someone who can't use their legs might seem like an intimidating prospect but it's also frustrating to be seen as so incredibly different that folks are afraid to approach me with an invitation to play. My strategy to combat this challenge has been to be more assertive and start asking more folks if they want to play instead of waiting for folks to approach me.
Usually I see a quick flash of fear cross their face but, to their credit, most folks agree to play with me and then we move on to the logistics of exactly how it's going to work. I can also see the relief on people's faces when they roll me up into folded leaf and realize it wasn't as hard or as different as they thought it was going to be. I have learned to coach people through a few basic poses and can usually see my partner's confidence grow as they realize although playing with me requires some adapting, it's not as scary as they had thought. It's been a common experience to have my partner thank me after we are done playing, and then for them to admit that they have wanted to play with me for a while but weren't sure they could. Folks are starting to realize that although playing with me is different, it's really just another way of adapting what they already know.
It is natural for people to avoid unfamiliar or scary situations. But I would encourage you to push past that fear and step outside your comfort zone. Go ask the person on the sidelines if they want to play. Acro is a partnership so don't think you need to have all the answers or be an expert before you can play with someone new; your partner likely has some ideas about what might work (or not work) and, when in doubt, have confidence in your ability to figure it out together! Embrace the opportunity to learn something new, play with someone who is different and help your community become more inclusive of acroyogis of all shapes, sizes and abilities.